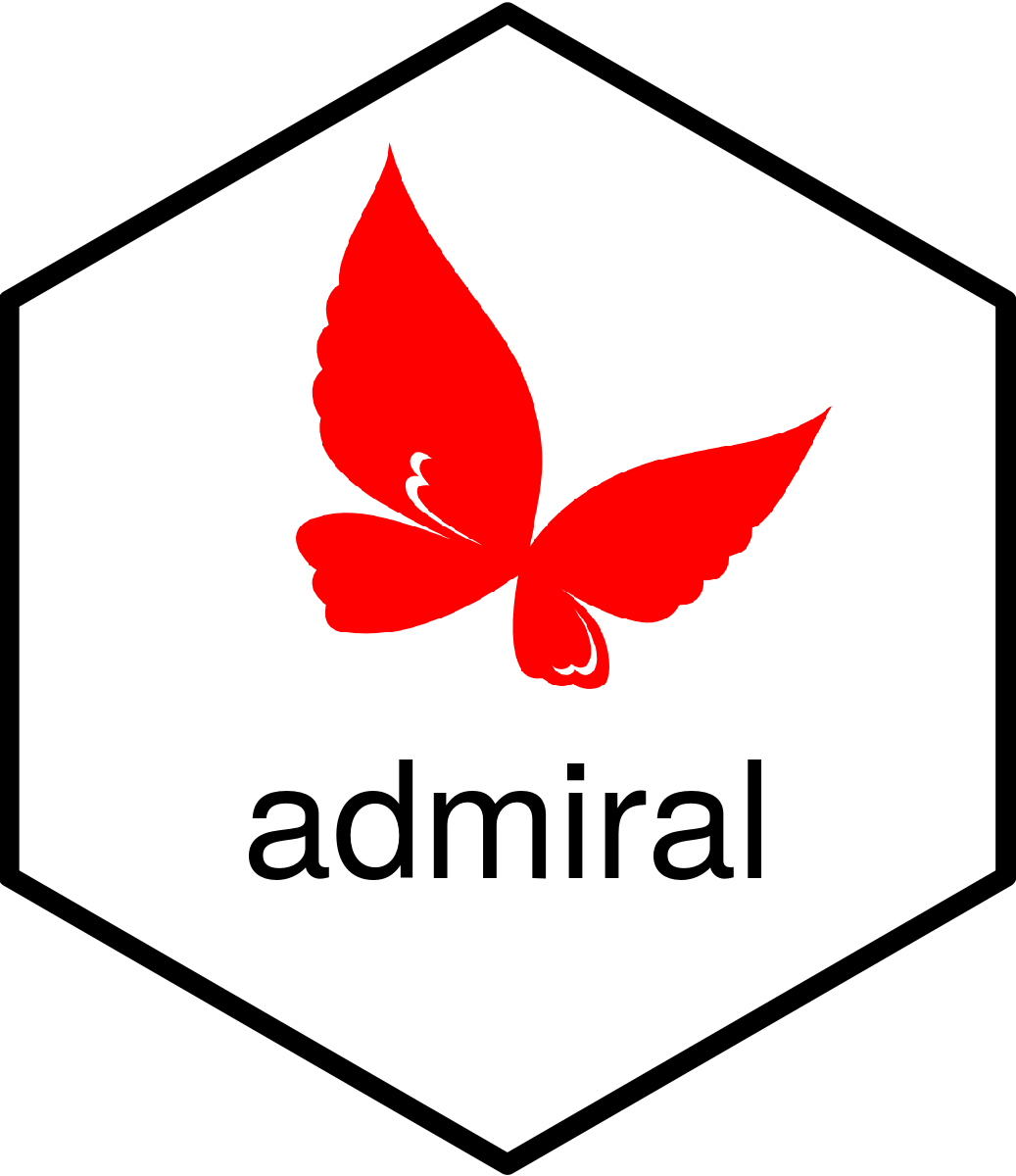 Call a Single Derivation Multiple Times
Source:
R/call_derivation.R
call_derivation.Rd
Call a single derivation multiple times with some parameters/arguments being fixed across iterations and others varying.
Arguments
dataset

The input dataset

derivation

The derivation function to call

variable_params

A list of function arguments that are different across iterations. Each set of function arguments must be created using params().

...

Any number of named function arguments that stay the same across iterations. If a function argument is specified both inside variable_params and ... then the value in variable_params overwrites the one in ...
Value
The input dataset with additional records/variables added depending on which derivation has been used.
Examples
library

(

dplyr, warn.conflicts 

=

 

FALSE

)


library

(

admiral.test

)


data

(

admiral_ae

)


data

(

admiral_adsl

)







adae

 

<-


  select

(

admiral_ae

[

sample

(

1

:

nrow

(

admiral_ae

)

, 

1000

)

, 

]

, 

USUBJID

, 

AESTDTC

, 

AEENDTC

)

 %>%
  derive_vars_merged

(


    dataset_add 

=

 

admiral_adsl

,
    new_vars 

=

 vars

(

TRTSDT

, 

TRTEDT

)

,
    by_vars 

=

 vars

(

USUBJID

)


  

)







## While `derive_vars_dt()` can only add one variable at a time, using `call_derivation()`




## one can add multiple variables in one go




call_derivation

(


  dataset 

=

 

adae

,
  derivation 

=

 

derive_vars_dt

,
  variable_params 

=

 list

(


    params

(

dtc 

=

 

AESTDTC

, date_imputation 

=

 

"first"

, new_vars_prefix 

=

 

"AST"

)

,
    params

(

dtc 

=

 

AEENDTC

, date_imputation 

=

 

"last"

, new_vars_prefix 

=

 

"AEN"

)


  

)

,
  min_dates 

=

 vars

(

TRTSDT

)

,
  max_dates 

=

 vars

(

TRTEDT

)




)




#>

 

# A tibble: 1,000 x 7




#>

    USUBJID     AESTDTC   AEENDTC     TRTSDT     TRTEDT     ASTDT      AENDT     


#>

    

<chr>

       

<chr>

     

<chr>

       

<date>

     

<date>

     

<date>

     

<date>

    




#>

 

 1

 01-708-1353 2013-08-… 

"

2013-09-1… 2013-07-04 2013-08-28 2013-08-18 2013-09-10




#>

 

 2

 01-703-1299 2013-03-… 

""

          2012-09-12 2013-03-13 2013-03-13 

NA

        




#>

 

 3

 01-701-1287 2014-07-… 

"

2014-07-1… 2014-01-25 2014-07-26 2014-07-09 2014-07-12




#>

 

 4

 01-703-1299 2013-03-… 

""

          2012-09-12 2013-03-13 2013-03-01 

NA

        




#>

 

 5

 01-718-1066 2013-07-… 

""

          2013-07-07 2013-07-16 2013-07-18 

NA

        




#>

 

 6

 01-717-1109 2014-02-… 

""

          2014-01-27 2014-07-28 2014-02-20 

NA

        




#>

 

 7

 01-718-1170 2013-10-… 

"

2013-10-1… 2013-09-16 2013-10-12 2013-10-11 2013-10-12




#>

 

 8

 01-708-1428 2013-12-… 

"

2013-12-2… 2013-11-09 2013-12-14 2013-12-10 2013-12-21




#>

 

 9

 01-705-1349 2013-04-… 

"

2013-04-1… 2013-03-10 2013-09-08 2013-04-11 2013-04-11




#>

 

10

 01-710-1027 2014-05-… 

"

2014-06-2… 2014-02-28 2014-08-29 2014-05-23 2014-06-20




#>

 

# … with 990 more rows







## The above call using `call_derivation()` is equivalent to the following




adae

 %>%
  derive_vars_dt

(


    new_vars_prefix 

=

 

"AST"

,
    dtc 

=

 

AESTDTC

,
    date_imputation 

=

 

"first"

,
    min_dates 

=

 vars

(

TRTSDT

)

,
    max_dates 

=

 vars

(

TRTEDT

)


  

)

 %>%
  derive_vars_dt

(


    new_vars_prefix 

=

 

"AEN"

,
    dtc 

=

 

AEENDTC

,
    date_imputation 

=

 

"last"

,
    min_dates 

=

 vars

(

TRTSDT

)

,
    max_dates 

=

 vars

(

TRTEDT

)


  

)




#>

 

# A tibble: 1,000 x 7




#>

    USUBJID     AESTDTC   AEENDTC     TRTSDT     TRTEDT     ASTDT      AENDT     


#>

    

<chr>

       

<chr>

     

<chr>

       

<date>

     

<date>

     

<date>

     

<date>

    




#>

 

 1

 01-708-1353 2013-08-… 

"

2013-09-1… 2013-07-04 2013-08-28 2013-08-18 2013-09-10




#>

 

 2

 01-703-1299 2013-03-… 

""

          2012-09-12 2013-03-13 2013-03-13 

NA

        




#>

 

 3

 01-701-1287 2014-07-… 

"

2014-07-1… 2014-01-25 2014-07-26 2014-07-09 2014-07-12




#>

 

 4

 01-703-1299 2013-03-… 

""

          2012-09-12 2013-03-13 2013-03-01 

NA

        




#>

 

 5

 01-718-1066 2013-07-… 

""

          2013-07-07 2013-07-16 2013-07-18 

NA

        




#>

 

 6

 01-717-1109 2014-02-… 

""

          2014-01-27 2014-07-28 2014-02-20 

NA

        




#>

 

 7

 01-718-1170 2013-10-… 

"

2013-10-1… 2013-09-16 2013-10-12 2013-10-11 2013-10-12




#>

 

 8

 01-708-1428 2013-12-… 

"

2013-12-2… 2013-11-09 2013-12-14 2013-12-10 2013-12-21




#>

 

 9

 01-705-1349 2013-04-… 

"

2013-04-1… 2013-03-10 2013-09-08 2013-04-11 2013-04-11




#>

 

10

 01-710-1027 2014-05-… 

"

2014-06-2… 2014-02-28 2014-08-29 2014-05-23 2014-06-20




#>

 

# … with 990 more rows