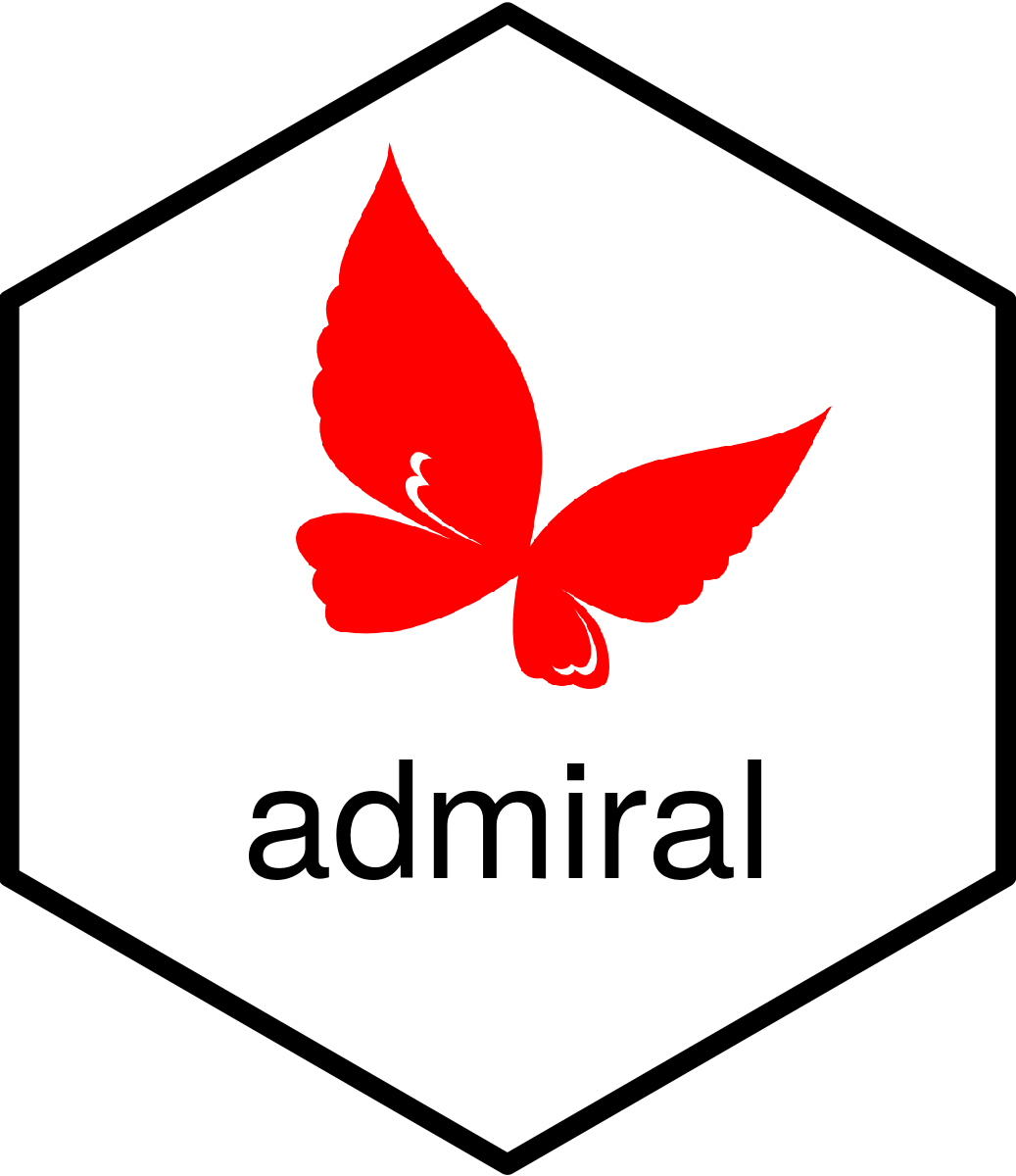 Derive Baseline Variables
Source:
R/derive_var_base.R
derive_var_base.Rd
Derive baseline variables, e.g. BASE or BNRIND, in a BDS dataset
Arguments
dataset

The input dataset

by_vars

Grouping variables uniquely identifying a set of records for which to calculate new_var

source_var

The column from which to extract the baseline value, e.g. AVAL

new_var

The name of the newly created baseline column, e.g. BASE

filter

The condition used to filter dataset for baseline records.

By default ABLFL == "Y"
Value
A new data.frame containing all records and variables of the input dataset plus the new_var variable
Details
For each by_vars group, the baseline record is identified by the condition specified in filter which defaults to ABLFL == "Y". Subsequently, every value of the new_var variable for the by_vars group is set to the value of the source_var variable of the baseline record. In case there are multiple baseline records within by_vars an error is issued.
Examples
library

(

tibble

)







dataset

 

<-

 tribble

(


  

~

STUDYID

, 

~

USUBJID

,   

~

PARAMCD

, 

~

AVAL

,   

~

AVALC

,      

~

AVISIT

, 

~

ABLFL

,  

~

ANRIND

,
  

"TEST01"

,  

"PAT01"

,  

"PARAM01"

, 

10.12

,       

NA

,   

"Baseline"

,    

"Y"

, 

"NORMAL"

,
  

"TEST01"

,  

"PAT01"

,  

"PARAM01"

, 

9.700

,       

NA

,      

"Day 7"

,    

"N"

,    

"LOW"

,
  

"TEST01"

,  

"PAT01"

,  

"PARAM01"

, 

15.01

,       

NA

,     

"Day 14"

,    

"N"

,   

"HIGH"

,
  

"TEST01"

,  

"PAT01"

,  

"PARAM02"

, 

8.350

,       

NA

,   

"Baseline"

,    

"Y"

,    

"LOW"

,
  

"TEST01"

,  

"PAT01"

,  

"PARAM02"

,    

NA

,       

NA

,      

"Day 7"

,    

"N"

,       

NA

,
  

"TEST01"

,  

"PAT01"

,  

"PARAM02"

, 

8.350

,       

NA

,     

"Day 14"

,    

"N"

,    

"LOW"

,
  

"TEST01"

,  

"PAT01"

,  

"PARAM03"

,    

NA

,    

"LOW"

,   

"Baseline"

,    

"Y"

,       

NA

,
  

"TEST01"

,  

"PAT01"

,  

"PARAM03"

,    

NA

,    

"LOW"

,      

"Day 7"

,    

"N"

,       

NA

,
  

"TEST01"

,  

"PAT01"

,  

"PARAM03"

,    

NA

, 

"MEDIUM"

,     

"Day 14"

,    

"N"

,       

NA

,
  

"TEST01"

,  

"PAT01"

,  

"PARAM04"

,    

NA

,   

"HIGH"

,   

"Baseline"

,    

"Y"

,       

NA

,
  

"TEST01"

,  

"PAT01"

,  

"PARAM04"

,    

NA

,   

"HIGH"

,      

"Day 7"

,    

"N"

,       

NA

,
  

"TEST01"

,  

"PAT01"

,  

"PARAM04"

,    

NA

, 

"MEDIUM"

,     

"Day 14"

,    

"N"

,       

NA




)







## Derive `BASE` variable from `AVAL`




derive_var_base

(


  

dataset

,
  by_vars 

=

 vars

(

USUBJID

, 

PARAMCD

)

,
  source_var 

=

 

AVAL

,
  new_var 

=

 

BASE




)




#>

 

# A tibble: 12 x 9




#>

    STUDYID USUBJID PARAMCD  AVAL AVALC  AVISIT   ABLFL ANRIND  BASE


#>

    

<chr>

   

<chr>

   

<chr>

   

<dbl>

 

<chr>

  

<chr>

    

<chr>

 

<chr>

  

<dbl>




#>

 

 1

 TEST01  PAT01   PARAM01 10.1  

NA

     Baseline Y     NORMAL 10.1 




#>

 

 2

 TEST01  PAT01   PARAM01  9.7  

NA

     Day 7    N     LOW    10.1 




#>

 

 3

 TEST01  PAT01   PARAM01 15.0  

NA

     Day 14   N     HIGH   10.1 




#>

 

 4

 TEST01  PAT01   PARAM02  8.35 

NA

     Baseline Y     LOW     8.35




#>

 

 5

 TEST01  PAT01   PARAM02 

NA

    

NA

     Day 7    N     

NA

      8.35




#>

 

 6

 TEST01  PAT01   PARAM02  8.35 

NA

     Day 14   N     LOW     8.35




#>

 

 7

 TEST01  PAT01   PARAM03 

NA

    LOW    Baseline Y     

NA

     

NA

   




#>

 

 8

 TEST01  PAT01   PARAM03 

NA

    LOW    Day 7    N     

NA

     

NA

   




#>

 

 9

 TEST01  PAT01   PARAM03 

NA

    MEDIUM Day 14   N     

NA

     

NA

   




#>

 

10

 TEST01  PAT01   PARAM04 

NA

    HIGH   Baseline Y     

NA

     

NA

   




#>

 

11

 TEST01  PAT01   PARAM04 

NA

    HIGH   Day 7    N     

NA

     

NA

   




#>

 

12

 TEST01  PAT01   PARAM04 

NA

    MEDIUM Day 14   N     

NA

     

NA

   







## Derive `BASEC` variable from `AVALC`




derive_var_base

(


  

dataset

,
  by_vars 

=

 vars

(

USUBJID

, 

PARAMCD

)

,
  source_var 

=

 

AVALC

,
  new_var 

=

 

BASEC




)




#>

 

# A tibble: 12 x 9




#>

    STUDYID USUBJID PARAMCD  AVAL AVALC  AVISIT   ABLFL ANRIND BASEC


#>

    

<chr>

   

<chr>

   

<chr>

   

<dbl>

 

<chr>

  

<chr>

    

<chr>

 

<chr>

  

<chr>




#>

 

 1

 TEST01  PAT01   PARAM01 10.1  

NA

     Baseline Y     NORMAL 

NA

   




#>

 

 2

 TEST01  PAT01   PARAM01  9.7  

NA

     Day 7    N     LOW    

NA

   




#>

 

 3

 TEST01  PAT01   PARAM01 15.0  

NA

     Day 14   N     HIGH   

NA

   




#>

 

 4

 TEST01  PAT01   PARAM02  8.35 

NA

     Baseline Y     LOW    

NA

   




#>

 

 5

 TEST01  PAT01   PARAM02 

NA

    

NA

     Day 7    N     

NA

     

NA

   




#>

 

 6

 TEST01  PAT01   PARAM02  8.35 

NA

     Day 14   N     LOW    

NA

   




#>

 

 7

 TEST01  PAT01   PARAM03 

NA

    LOW    Baseline Y     

NA

     LOW  




#>

 

 8

 TEST01  PAT01   PARAM03 

NA

    LOW    Day 7    N     

NA

     LOW  




#>

 

 9

 TEST01  PAT01   PARAM03 

NA

    MEDIUM Day 14   N     

NA

     LOW  




#>

 

10

 TEST01  PAT01   PARAM04 

NA

    HIGH   Baseline Y     

NA

     HIGH 




#>

 

11

 TEST01  PAT01   PARAM04 

NA

    HIGH   Day 7    N     

NA

     HIGH 




#>

 

12

 TEST01  PAT01   PARAM04 

NA

    MEDIUM Day 14   N     

NA

     HIGH 







## Derive `BNRIND` variable from `ANRIND`




derive_var_base

(


  

dataset

,
  by_vars 

=

 vars

(

USUBJID

, 

PARAMCD

)

,
  source_var 

=

 

ANRIND

,
  new_var 

=

 

BNRIND




)




#>

 

# A tibble: 12 x 9




#>

    STUDYID USUBJID PARAMCD  AVAL AVALC  AVISIT   ABLFL ANRIND BNRIND


#>

    

<chr>

   

<chr>

   

<chr>

   

<dbl>

 

<chr>

  

<chr>

    

<chr>

 

<chr>

  

<chr>

 




#>

 

 1

 TEST01  PAT01   PARAM01 10.1  

NA

     Baseline Y     NORMAL NORMAL




#>

 

 2

 TEST01  PAT01   PARAM01  9.7  

NA

     Day 7    N     LOW    NORMAL




#>

 

 3

 TEST01  PAT01   PARAM01 15.0  

NA

     Day 14   N     HIGH   NORMAL




#>

 

 4

 TEST01  PAT01   PARAM02  8.35 

NA

     Baseline Y     LOW    LOW   




#>

 

 5

 TEST01  PAT01   PARAM02 

NA

    

NA

     Day 7    N     

NA

     LOW   




#>

 

 6

 TEST01  PAT01   PARAM02  8.35 

NA

     Day 14   N     LOW    LOW   




#>

 

 7

 TEST01  PAT01   PARAM03 

NA

    LOW    Baseline Y     

NA

     

NA

    




#>

 

 8

 TEST01  PAT01   PARAM03 

NA

    LOW    Day 7    N     

NA

     

NA

    




#>

 

 9

 TEST01  PAT01   PARAM03 

NA

    MEDIUM Day 14   N     

NA

     

NA

    




#>

 

10

 TEST01  PAT01   PARAM04 

NA

    HIGH   Baseline Y     

NA

     

NA

    




#>

 

11

 TEST01  PAT01   PARAM04 

NA

    HIGH   Day 7    N     

NA

     

NA

    




#>

 

12

 TEST01  PAT01   PARAM04 

NA

    MEDIUM Day 14   N     

NA

     

NA